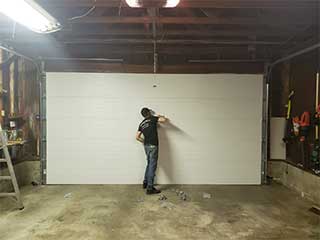 Ensure Your Door Is Reliable
Everyone deserves to have a garage door that they can count on to work properly. Otherwise, you have to worry about it closing all the way when your gone, and being able to get out of the house on time when you have places to be. Rather than risk your home and belongings' safety, or being late for work, just allow us to get your door in the best shape possible! The sooner you have issues such as reversing suddenly or slowing down taken care of, the better. Otherwise, the damage will continue to spread and cause even more trouble!
Fast & Effective Opener Repairs
Our experts are deeply familiar with all of the major brands of garage door openers, so there's no need to worry about whether we can take care of yours! From Linear to Chamberlain, we've got it all covered. We use the best tools and parts to repair or replace what's needed of your opener's components after determining the exact cause of the issue. Whether the part's rusted from moisture, or simply worn down from use, we'll fix it. Should the opener itself be too old or need an upgrade, we'll assist you with finding a new one to replace it with.
Getting Your Door Back On Tracks
Over time your garage door tracks may get tweaked or dented from use or an accidental bump, and this can cause the door to have trouble sliding over it as easily as it's meant to. If the damage is bad enough, the door may even pop out of the track altogether. Our professionals can help! We'll take a look and repair the damage if possible, or can replace the track if needed. The latter is a more involved process that requires careful work to temporarily remove the door, which is why it's best left to our trained technicians.
Find Out More Today
Call our Garage Door Repair Thornton team now and get your appointment scheduled at a time that works best for your schedule.
A Few Informative Answers
My garage door won't open all the way. How come?
There are several issues that can cause this. More likely than not, the problem is from a calibration error in your opener settings, but other possible culprits include jammed rollers or tracks, defective safety lock systems, and loose or broken springs and lift cables. Try adjusting the travel and force settings on your opener, if you know how. If you don't, or if doing so doesn't solve the problem, call for help.
Why is my garage door reversing?
Jammed or overactive remote control or wall panel buttons are a common culprit for this issue, but unfortunately there are plenty of others as well. If your door starts to reverse while it closes and faulty controls have been ruled out, it's probably an issue with the sensors or other safety systems. If this issue happens while the door is opening, it could be an opener or a spring malfunction.
My garage door opens a little then stops. Why is that?
There are several problems that can cause this behavior. If your opener's travel and force settings are off-calibration, it might end up stopping the door's ascent prematurely or not using enough energy. If there's a problem with your springs or lift cables, that could also cause the door to stop after a certain point. Finally, the hinges or tracks could be jammed.
You can also count on us for:
Track Alignment & Repair
Torsion Spring Adjustment
New Opener Remote Controls
Roll up Garage Door Maintenance